My least favorite word right now? Economy! oof!
But let's face it we need to take a long hard look at ourselves (our bank accounts) in the mirror. We can't dance around the topic anymore can we?
I know I can't. But I didn't know where to start.
That's where Suze steps in: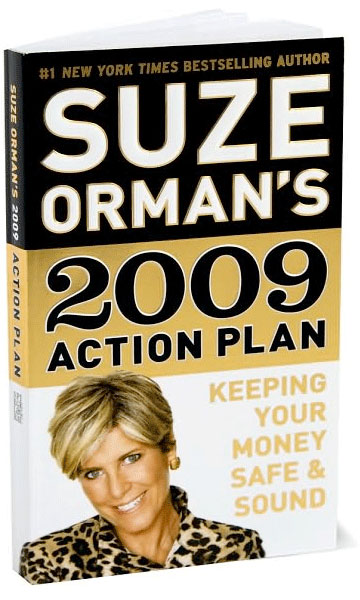 As you may remember I am huge fan of Suze Orman
. She is honest, tough, but always fair. Suze saw that we all needed some guidance when it came to our current economic situation so she quickly put together "Suze Orman's 2009 Action Plan".
I sped through this book so quickly it's not even funny. There were many times when I wanted to turn away, shut the book and go on living blissfully unaware. But I knew I had to forage ahead, this was important. I learned many helpful tips from Suze (once again) and it was especially helpful because she had our current situation in mind.
And like last time Suze offered this book free on the Internet for a few days. While it isn't available now I still have a copy saved on my desk top and I am willing to share. So e-mail me if you would like me to e-mail you a copy!